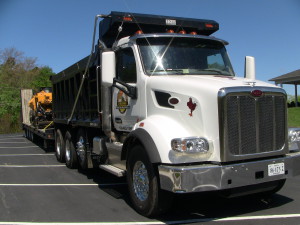 In addition to our asphalt paving services, sealcoating services, and snow removal services, Virginia Paving and Sealcoating also provides hauling services to all of central and south side Virginia.
Whether you need debris hauled away from your property, construction materials such as gravel, dirt, sand, or mulch moved to a job site, or equipment moved from one job to another, we have the capability to serve you.
Customers for our hauling services include homeowners, contractors, small businesses, and state and local government agencies.
Our hauling equipment includes the following:
2015 Peterbuilt Tri-axle dump truck
2015 Triple-dual trailer with a GVWR of 62,000 lbs.
Smaller trailers also available